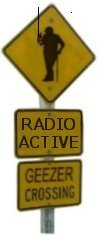 First off we must thank Melvin, KF4PN, for giving the title of "Geezer" to Charles, KG4NZW. As most things evolve, the "Geezer" movement has started to flourish. Charles is the "Head Geezer", Melvin is now the number one "Geezer in Training". Even though some of these Operators are General or even Extra Class, they like to spend time "Playing Radio" on the many Repeaters in Central Florida. Many of these machines allow DXing, now that is a big topic, via EchoLink over the Internet using VoIP technology. Graham, W4HFG in the US or G4HFG/L in the UK, the is also a charter member of this group, one day he will be aware of this honor. Mike, N4HHA, and I, K4SLB, can be found on, well one never really knows but sooner or later we end up on the 444.450 where Tony, K4AVD, can be heard from the "Ice Bunker" downtown Kissimmee from time to time. Steve, K4SKM, will occasionally be heard on the trek to Old Town. Yes, "Geezers" can even be of the female persuasion, even Linda, K4EIO, can be heard chatting it up. If not in the foreground in the background. Sharon,WB4ACE, Tony's better half, aced her exam just a month ago, we should be hearing her on before long now that the vanity call came in. During second shift "Drive time" KG4NZR, Bill can be heard on his way to the "Mouse House". Unfortunately, Robert, KB4USW, now K4RRF can not make it in with his "Leaner" antenna and is usually on HF making lots of contacts, we can raise him on the N4HHA/R. The ARRG.US 33cm repeater is on the air and fully coordinated and operating at 927.7000 mHz - with a DPL of 411 using the N4GUS call sign. The sister organization MFARRA repeater is operating at 14.210 mHz + 103.5 / 103.5 CTCSS using the N4ARG call.
Well the Tower did make it's way to the full height. The 927.7000 now has a very nice pre-amp and 8 cavity filter on it. The 147.210 became fully coordinated on January 6th, 2007. Thanks, in part to Bill, WD4KBW, as well as AA9NV for finding a Sinclair Duplexer for this installation, to upgrade from "Split Site" configuration. Hopefully this will be implemented around the 20th of January. Will this didn't happen until November 2007, The Sinclair Duplexer that AA9NV found for us never did get on the air here. Leonard WA3AWY brought down a pre tuned Sinclair "Q" rack mount set of cavities from N3DAB that has done away the "Split Site" set up.
Just a few of the Nodes, connected to Repeaters or Links, they can be found on are: 44310 - 6457 - 1510 - 47210 - 255856 - 286166 - 86525 to list a few. Sometimes all of these are connected so that they may use low power HTs to work stations all over the world or they may be going about their daily routine in a mobile. The IRLP Node 4338 has been added to the K4SLB Repeater Thanks to KE4TTE who also has a repeater in Orlando with Echolink Node 2397 and IRLP Node 2897.
The "Intercom", an almost continuous, connection from and to KI4HZP/R, K4SLB/R and the AA9NV-L, can be heard in areas of Florida, North Carolina and Wisconsin.
What do we talk about?
Well, almost everything, especially Radio Stuff. Helping each other with all kinds of things, that's what "Geezers" do. Old Cars is also a big topic. What are the best deals on stuff that we just have to have? What you building now? Geography, Anthropology, Archeology, Sci-Fi, TV - Movies, not usually Religion or Politics, we pretty much respect fellow "Geezers" in this respect so please refrain from these topics. How Central Florida has grown, the way it "Used to Be" at the many theme parks here in Florida, Speaking of what we do, we can always use funds to keep the Repeaters going and this website. So if you are entertained by any of this, donations are always welcome. I have put a handy button on the bottom of the page for your spending enjoyment.
Other local "HAMS" that have been heard on these machines include Clay, WA8ART, from his garage station in Saint Cloud, Jim, N4IAT, Mark, KC4ZVK, Martin, K0BXB, Wally, W4EFK, who also has a repeater on 444.6 (88.5) node 264649 near the Airport in Tampa that is sometimes connected and Bert W4YWW, can be heard using the node from his High Rise in Downtown Orlando.
Just a few that have come in on the "Echo Link" network include all of the operators in the right column.
We invite all to join in, you know your a "Repeater Geezer" now admit it. Either that you you listen on a scanner, if you do why not become a HAM?
Just a few
that stopped by
via
Echolink
IRLP
or RF

K4DPD-R
G8YPL
N5BMI
M1CND
M3NRV
G4FKI-L
KB1NQM
DO4NU
AA4HV
KE5EJE
WX4DC
KC0WPP
K3HED
KT4JX
K8KZG
KB4HW
KD4IVP
WA9SXK
KC9JLX
WA9SXK
KQ4YM
KA1OFN
DL8SCG
N4FTC
DL1BX
N3HQB
W4AES-R
NR4DR
KD8DNN
N2WFU
KC9JLX
W4EFK-R
N3HQB
ZR1BU
DL1BX
W2CAM-R
KI4POJ
KG4VVO
VK5HBH-L
KE4QAP
KD4EXY
DM0ZIR-L
W4RAR-L
4X6FK
KI6DHQ
KI4KOF
KI6DJB
KC0TMQ
WA2RJP-R
KD8DNN
KA9EEA
KA4MGE
N4HHA
KI4IYC
G4HFG-L
VE3ELJ
KA5VLQ
W5HJB-L
KG6NHG
KC8ZMO
W8LRB
HB9JOI
KC8ZSZ
KE4MNF
KB2YJD
N5LFH
KE4KMD
KC9JEI
CT1EMC
PD2OLN
KE4JEM
K2JMC
DG3KBQ
EA1ARW
KD4KRP
KA3ZMO
KD4EXY
VK2YX
KI4AT
KD5GGX
KE4TTE-R
KI6DHQ
KA4TNS
K4SSP
KB9QWZ
KC0QWN
W4EFK-R
KC9IMK-L
DL0GSN-L
KI4CDS
N9QIP-R
W5MFC
N2DQZ
W2PT
KF4UZT
W8JDO
KE4UWJ
G8PME
KA2ING
G8PME
KE5IWX
DL3TW
G7DPY
WA9FDP-R
M3PST
G4EGU-R
W3BXW-R
KB3ADI
KC2OER
WA3PGL
KA3BRP
AI4GK